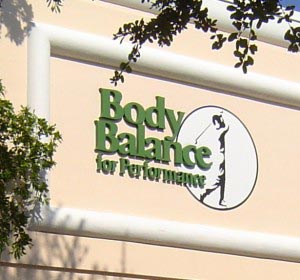 More Information about a Golf Fitness Franchise
Benefits of Owning a Body Balance for Performance Franchise

---
We have documented all processes and actions needed to open your Body Balance for Performance Golf Fitness Franchise Business. You will be guided every step of the way during the process of start-up. We are here to help you be successful in your opening. Top
---
On going operational support and training
We provide on-going training and support to ensure your success. This includes weekly telephone calls, on-line video conference call training, and onsite support and trainingTop
---
A complete system that, when followed produces results
We created a turnkey system to operated your business. We have documented all processes and actions needed to operate your Body Balance for Performance Golf Fitness Franchise Business. It is our system that separates us from a weekend course or certification. The system is the business. Top
---
On-line software to manage the business.
One part of the System, is our business management software tools. These tools help you understand the status of your business, market your business, and manage your clients.Top
---
Body Balance for Performance Golf Franchise is the only national franchise business delivering golf fitness services. We are a leader in the golf fitness industry. Our state of the art technology, research and complete training experience, gives you an advantage over your competitors. We get the outcomes. It is that simple. Top
---
Based on sound scientific research.
Body Balance's core philosophies are based on sound scientific research that began in the 1980's. Many centers are working with universities researching certain body/swing relationships.Top
---
Unique in how we analyze the body to improve swing flaws.
The combination of our hands on releasing and exercise approach, and state of the art technology gives a COMPLETE picture about how your body affects your swing. That makes it easy to help golfers get better.Top
---
Delivered in most any facility or location.
Body Balance for Performance can be operated out of many types of facilities including: medical offices, store fronts, golf courses and clubs, fitness centers and other locations.Top
---
Relatively low overhead related to its revenue potential.
There are some centers who run with one person who does all of the clinical and marketing work. Other centers employ several people in marketing and delivery. Your vision and desire for your business are the determining factors.Top
---
Equipment that produces an additional revenue stream.
Most of the equipment used in the Body Balance for Performance program is sold to clients in each center providing additional revenue for you.Top
---
Fee-for-service enterprise that produces revenue 12 months a year.
Body Balance for Performance is a cash based business. Health insurance does not cover our services. For health care providers this is a welcome change from the third party payer system. Golfers are able to participate in our program year round as the program is done indoors.Top
---
Revolutionize golf learning by helping the world understand the importance of the body and golf swing relationships.Top
---
---
Disclaimer
The materials on the website regarding the Body Balance for Performance franchise opportunity are for general information only and not intended to offer a franchise to anyone viewing this site. Offers and sales of a franchise are made only after the delivery of a franchise disclosure document which is in compliance with all applicable federal and state law.
Before offering franchises for sale in some states, our franchise disclosure document may need to be registered and declared effective by the appropriate state regulatory authority. Our federal disclosure document has to be delivered to the offeree within the applicable time frame provided before the sale of a franchise. The Body Balance for Performance franchise is offered only by delivery of a franchise disclosure document.